Covatar EXPERIENCE BUNDLE Terms and General information
Covatar's range of services is effective and loved by our clients, but we decided to take our customer service experience to the next level by offering a look inside the art creation process and directly participate in it. If you'd like to participate in our proprietary production process and give us your feedback during production, we offer a special bundle that includes some cool perks and bonuses:
7-day express delivery

Participation in the creation process by providing feedback on each production step

Preliminary results approval and edit requests

Personal customer success manager

Priority support via email

Complimentary printable version of the portrait
Here's the production process that you will be able to participate in with all necessary steps and approval checkpoints where you'll give your feedback as we go.
Step 0: Receiving initial information and reference photos
After choosing style and number of people or pets and submitting the payment, you'll receive a unique questionnaire link via email. This form will include some basic questions (social media pages links, eye color, hair color, favorite colors, two details that you would like us to incorporate in your avatar) and a field to submit reference pictures. You can submit up to 10 photos at once.
After submitting the initial questionnaire, you'll be redirected and offered to purchase a separate EXTRA bundle. The link to this page will be accessible via email. Please note that you can't use the perks and services included in the EXTRA bundle until you purchase it.
You also must submit all updated and relevant reference photos that satisfy our standards published on this page. If the provided photos don't meet the necessary requirements, your personal customer success manager will be in touch via email and request more photos. The order will be on hold at this point before we receive the required information from you.
Please note: no refunds can be made after submitting the questionnaire form and reference pictures.
Step 1: Sketch version (Day 1 + 24 hours for approval and special requests)
What's included: one edit cycle for sketch.
As soon as we receive the correct information from you, we'll start working on the initial sketch for your portrait.
Your artist will pick the best pictures out of what you have submitted and find more references for special details you mentioned in the questionnaire. Your sketch version is an arrangement of digital canvas elements, integration, and showcase of ideas from the submitted questionnaire. It is important to understand that this stage will produce a rough sketch that will explain what we'll be doing in your portrait. The similarity to your picture, at this stage, can and most likely will be low. It's completely normal and part of the process :)
What you should pay attention to at this stage of the process and what we can fix:
Poses and arrangement of characters

Facial expressions

Position of other elements on the sketch
Here's an example of how it may look: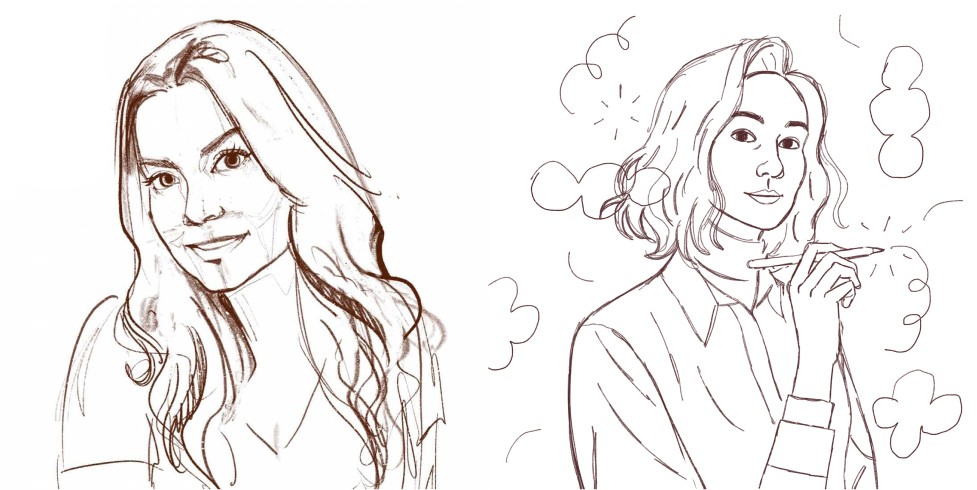 We expect you to give us your feedback within the first 24 hours after receiving the sketch. Otherwise, we'll automatically move it to the next stage of production. You'll have a chance to modify ideas and elements one time. To make that happen, we can also request additional references, examples and pictures. We'll take your edits into consideration at the next step but will not send an updated version of your portrait until Step 2.
Please note: If you want to change a certain element's position after approval of your sketch on later stages, it will be subject to an additional edit fee. You can learn more about edits here.
Step 2: Clean draft version (Day 3-4 + 24 hours for approval and special requests)
Included: one edit cycle for clean draft.
Your artist will create a clean draft out of the sketch with clear lines and added colors, but without much texture and effects. At this stage, you should expect to receive a portrait where you or other people/pets will look like themselves.
What you should pay attention to at this stage and what we can fix:
Colors and tones that influence self-perception (hair, eye or skin colors etc.)

Facial and body features. The overall composition of characters and elements can only be approved on the initial sketch stage. Change of composition on the clear draft stage may be subject to an additional fee because it will require re-creating your portrait from scratch.

Outfit, hairstyle, accessories
Here's an example of how it may look on this stage: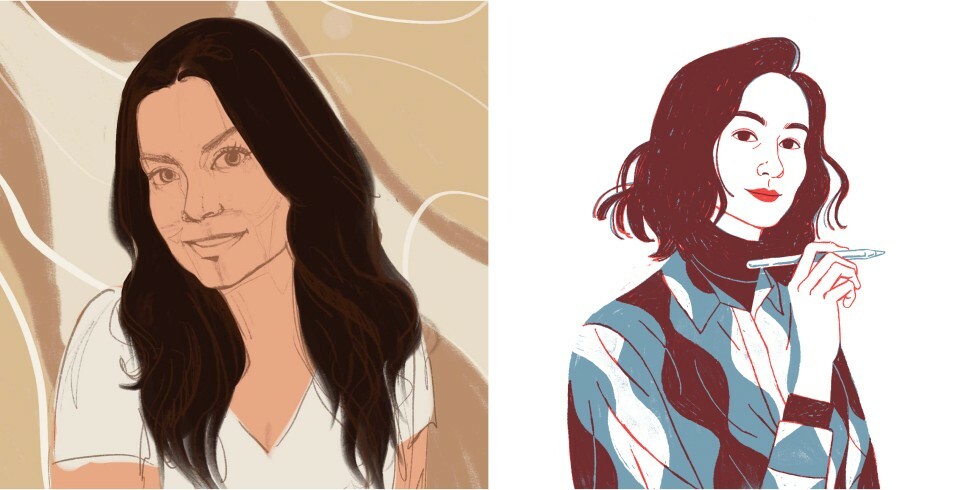 You are expected to share your feedback within the first 24 hours after receiving the clean draft version of the picture. Otherwise, your clean draft will be automatically moved to the next stage of production. You'll receive a final version with requested Step 2 edits within the next 48 hours after your clean draft approval.
Please note: The clean draft version may look slightly different depending on the artist's style. Once again, the change of composition is strictly prohibited after Step 1. If you changed your mind and want to change composition - it will be subject to the Major edits fee.
Step 3: Final version (Day 5-7)
The artist will create the final version of your portrait with all the effects, shadows and textures. At this point your order will be completed within the proposed initial timeline (7 days). You'll receive a printable file version with the 1000x1000 px version that you can use as a social media avatar.
Something like this or anything else posted on our website:
At this point, we'll be able to provide minor tweaks (such as changing colors, effects like shine/shadows) or fix face features in case somethin ain't ok . These small edits are a welcome part of the process.
You'll also receive a special link to the Covatar store with pre-made products with your portraits. The best part? With orders $100+ in the store you'll receive a complimentary free delivery (USPS or UPS) + free mug as a gift from us with your portrait on it.
Please note: changing background/outfit/hairstyle will be treated as Medium edits and a subject to an additional fee of $13 since those elements should have already been approved on the previous steps.
Have any questions? Feel free to shoot us a message via chat located at the bottom right corner of this page.